Hip Hip Hooray!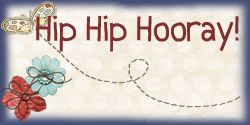 It has been nearly one year since Stuck?! Sketches relaunched and an amazing 3 years since our very first sketch.
August will be a month of celebration with lots and lots of layouts to share and awesome prizes to give away.
All the fun starts on August 1st so be sure to check out
STUCK?! Blog for more details.